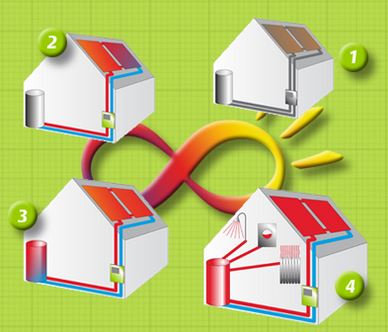 1. The Solar System starts working.
2. The sun heats up the Solar Collector and the Pumpunit starts circulating the Thermofluid via Heatexchanger into the tank.
3. The Storage Tank with the domestic water heats up.
4. The hot water in the Tank can be used for several aplications.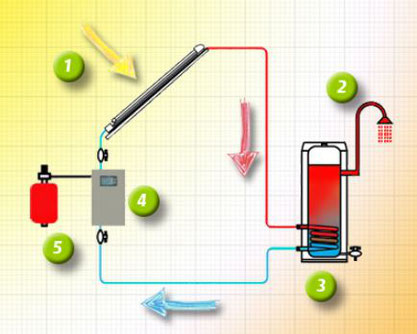 1.-Yellow arrow:
The sun shines on the solar collector and heats up the Solarliquid. The Workingstation (4/5) starts circulating the Solar Liquid.
Red arrow:
The hot solar liquid passes throught the heatexchanger (3) and heats up the domestic water in the deposit.
Blue arrow:
the now cooler Solarliquid gets pumped up  to the solar collector and heats up again.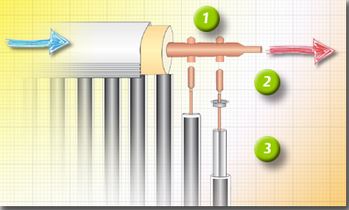 1.-Copper header pipe with sockets for dry connection to the "Heat Pipe".
2.-"Heat Pipe" top,plugs into the header pipe and transfers the heat.
3.-Evacuated tube,absorbs the solar thermal energy.
---
Beschreibung der Funktion auf deutsch: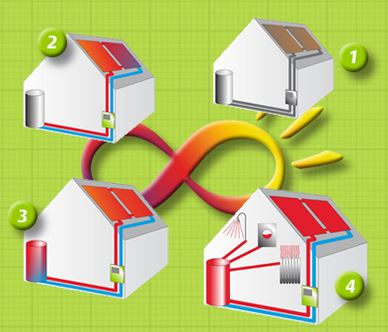 Der Solarkollektor ist nach Süden ausgerichtet und steht in einem Winkel von  45-60 Grad. ( Schrägdach, Flachdach oder Bodenmontage möglich)
Die Sonne erwährmt die Flüssigkeit im Solarkreislauf.
Die Flussigkeit erwährmt über einen Wärmetauscher das Brauchwasser im    Tank.
Das warme Wasser wird zum Duschen, Waschen, Spühlen und Heizen verwendet.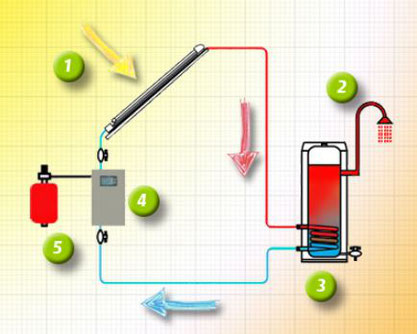 Gelber Pfeil
Sonne scheint auf den Kollektor,erwärmt die Füssikeit im Kollektor, die Pumpeneinheit (4/5) lässt die Flüssikeit zirkulieren.
Roter Pfeil
Die erhitzte Fussigkeit ströhmt durch den Wärmetauscher (3) im Tank und erhitzt das Brauchwasser im Tank .
Blauer Pfeil
Die Flüssigkeit kühlt sich ab und wird erneut durch die Pumpeneinheit (4/5)in den Kollektor geleitet.
Wenn das Wasser im Tank (2) die gleiche Temperatur wie die Flüssigkeit im Solarkreislauf erreicht hat, schaltet die Steuerung (4) die Pumpe aus. Sobald sich das Wassertemperatur im Tank wieder unter der Temperatur im Kollektor befindet, wird die Pumpe wieder eingeschaltet und der Vorgang wiederholt sich.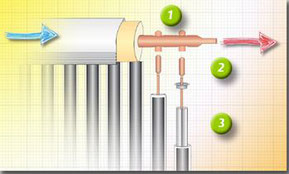 Sammler

: Kupferrohr 22 mm mit Isolierrung und Gehäuse wird von der Solarflüssigkeit durchströhmt. Im Abstand von 75 mm sind die Aufnahmehülsen für die "Heat Pipe" eingelötet.

Kondensator

: Der oberste Teil der "Heat-Pipe", hier wird die Wärme an den Sammler übertragen.

Vacuum Glasröhre mit beschichtetem Absorberblech

: Das Absorberblech (Kupfer / Aluminium) überträgt die Wärme auf die "Heat Pipe".
---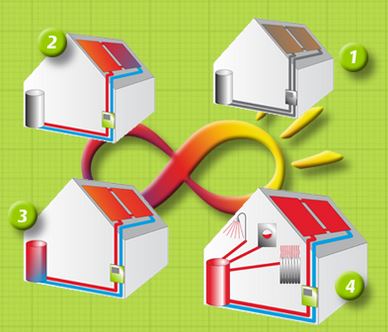 1. O sistema solar começa a  trabalhar.
2. O sol aquece os coletores solares a bomba de circulação começa a trabalhar e puxa o liquido solar para o permutador de calor dentro do depósito.
3. A água dentro do depósito começa a aquecer.
4. A água quente no depósito serve para várias aplicações.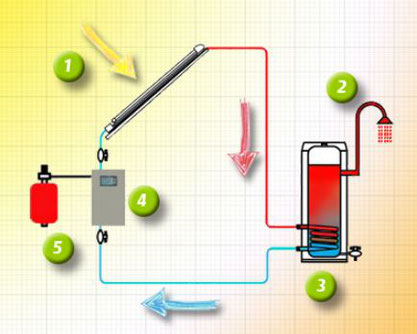 SISTEMA SOLAR BÁSICO
Seta amarela:
Os raios solares aquecem o liquido solar dentro do coletor. Dentro da estação solar, a bomba faz a circulação do líquido (circuito fechado).
Seta vermelha:
O liquido  quente passa sobre o comutador e aquece a água doméstica dentro do depósito.
Seta azul:
Agora o liquido solar é bombeado, outra vez e volta a aquecer.